Hey bloggies! Sorry for the delay in posts, but it's been a hectic couple of weeks! My Fiance got a job in North Carolina, so we were packing and just moved in last week! Talk about crazy... we're finally settling in which means more time to blog!
So apparently Hugh Hefner is back with his "ex girlfriend" Crystal Harris who backed out of their "engagement" last year. I seriously need to vent on this disgusting-ness. Apparently Crystal Harris is 26 years old and Mr. Playboy is 86 (no, that's not a typo people, 86 years old)!! He's exactly 60 years older than her. I'm sorry, but I would never be attracted to someone three times my age. That shiz is disgusting! Hef posted a picture of him and his granddaughter (oops, I mean girlfriend) on this past 4th of July during a party at the mansion. Take a look at these pictures of the duo and please tell me you agree that this ish is just nasty!
Harris & Hefner back in
2011. Let's hope she's only happy because of the rock on her finger...
Courtesy: Google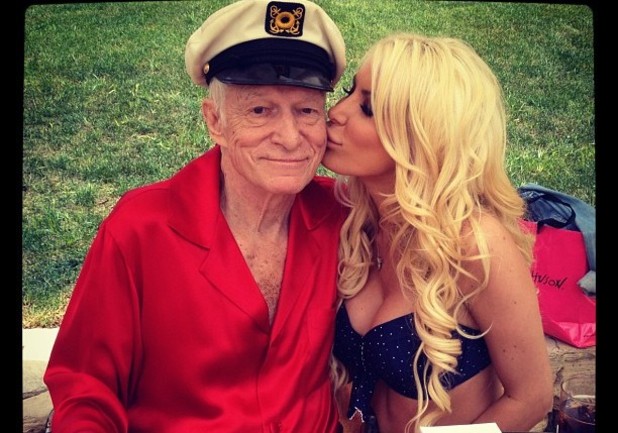 This past 4th of July. Ew. At least together they're reppin' red white & blue.
This should not be an ad for America.
Courtesy: Google
I hope this girl gets her stuff together. Shes too young to be mackin' on an 86 year old who wears silk pajamas and a sailor hat (whoever wears that combination is just weird in my book).
Bye bye bloggies!