Hey, bloggies!
So after a wonderfully painful trip to the dermatologist yesterday morning, I have a completely different outlook on makeup! My doctor was very nice and answered a few questions for me (hint hint, I wanted some info to blog about). If you have mild acne and oily skin like myself, please read on for some helpful tips I learned straight from the "derm" himself.
Tip numero uno from the doc was to wash your face with a clean facial cleanser! The less ingredients, the better. The cleanser he recommended was Liquid Neutrogena because of it's hypoallergenic ingredients, and it's fragrance free. I was iffy to try this stuff because it looked so simple on the packaging, but my face felt as soft a baby's bottom (did I seriously just use that expression? wow.. I am definitely getting older)!

Pic Via Ebay
Tip numero dos was to use Epiduo gel once a day in the evening. This bad boy is RX only, but man does it work wonders! I used it for the first time last night and it worked wonders. I was iffy to try it since all of the actors in the ad are teenagers, but he informed me that anyone can have acne, and that it's very common in 20 and 30 year-olds.
Pic via drugline.com
This medicine can be a little pricey, even with insurance, but my doctor gave me a savings card which guarantees that you won't pay more than $35 for the prescription. You also don't need to use a lot (less is more), and the bottle is a decent size and could probably last well up to a few months.
Tip numero tres- WASH YOUR MAKEUP BRUSHES! He couldn't stress that enough! Think about how often you use your makeup brushes on your face, day after day, after day. All of the oil from your face is absorbed in the brush bristles. My favorite brush cleaner?
Pic via elf.com
It's only $3 and it makes your brushes super clean! Score!
Last and final tip- Use mineral makeup! The doc told me that it's best to steer clear from liquid makeup since the liquid absorbs in your pores, thus creating dirty skin & acne. By using mineral makeup, your pores are clear and it's all natural, so you're not piling a bunch of gunk on your face. My favorite mineral makeup? Neutrogena's Mineral Sheer Powder foundation.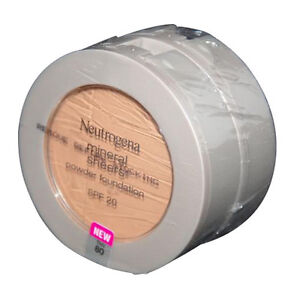 Pic via ebay.com
I was fed up with hiding my disgusting, acne-ridden face, so I took action into my own hands and visited the derm. I go for a followup in 8 weeks, just to make sure that the medicine is helping. I'll update you guys on the progress on my super scary skin! I know, that doesn't sound very interesting.