I was so bummed when I tried this shampoo. I have naturally curly-ish, frizzy, crazy, unmanageable hair, so I was really looking forward to trying a keratin-based shampoo with lower sulfates (the Brazilian wording also caught my eye because Brazilian women have gorgeous hair, duh). I used the shampoo for two weeks which was plenty of time to see a difference or not in my hair.
What the shampoo & conditioner claims to do:
smooth & strengthen
add a brilliant glow & luminescent shine
smooth the cuticle
What the shampoo & conditioner did:
left my hair frizzy
left my hair knotted & hard to untangle
no difference in shine
made my oily hair even more oily
Basically, I did not like this shampoo & conditioner combo. Even after blow-drying and straightening, my hair felt like straw and got oily super fast. I have very oily hair, but this line made it even worse. I wish it worked better on my hair type, but it just didn't do it for me. I think this would work best for those with already semi-straight and dry hair. Us curly-haired sisters lookin' for a quick straight fix need to keep looking.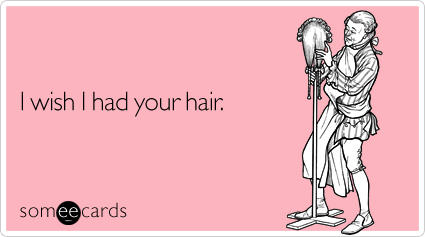 Pic via cdn.someecards.com