Let's just cut to the chase- my skin is a freakin' mess. It's oily, my pores are big enough to dive in to, I get cystic acne and it's very sensitive. I've going to the dermatologist ever since I was 15 because of the cystic acne- all my sista's out there who have this problem know the struggle is real. Those pesky little things just won't go away. It seriously takes a month for a cystic breakout to clear up on my skin, and that ish is no fun. Being that I'm nearing my 26th year in life and I'm still having acne, I've decided to really pay attention to my skin.
My skincare routine may be one of the longest, most dreaded part of my day because it's so extensive, but I can't stress enough how important it is to take good care of your skin. I used to just put on a moisturizer when I got out of the shower then proceeded with makeup and went on my life, then took my face off (makeup people) with makeup remover wipes and called it a day. Not anymore! Please keep reading if you'd like to see my skincare routine for morning and night... if you have a few minutes because this ish is hella long!
Morning Routine
When I get out of the shower I always wash my face thoroughly with my Olay Pro X- basically it's a cheap version of the Clarisonic, but it works great and is only $20! The kit comes with an exfoliating cleanser which I use once a week, but I use my Neutrogena Deep Clean Facial Cleanser on a daily basis- it's the best at removing impurities in your skin and it was recommended by my derm. After cleansing, I always apply some Sea Breeze Sensitive Skin Astringent to my face with a cotton ball just to further cleanse my pores. Next comes the Clean & Clear advantage gel to any breakouts- you can feel the medicine penetrating the cyst and it feels amazing not to sound weird or anything (too late). Finally, the last step in my morning skincare regimen is to apply a moisturizer- currently I'm using Neutrogena's Oil-Free Moisture for sensitive skin.
Nighttime Routine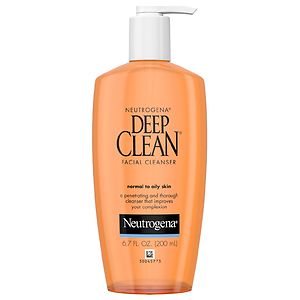 My nighttime routine is seriously the longest. I feel like i"m in the bathroom for 348904380 hours. First thing I do is remove my makeup with Pond's Cold Cream cleanser for sensitive skin (can you tell I have sensitive skin?). It's great at removing makeup and it leaves your skin feeling super moisturized. After removing my makeup, I cleanse my face with my Olay Pro X and Neutrogena Deep Clean cleanser and followup with my good 'ol Sea Breeze astringent to remove any makeup I may have left behind. Last step in my ridiculously long routine is applying Retinol cream around my eyes, smile lines, forehead and neck to help any fine lines or crows feet.
So there you have it, bloggies- my morning and nighttime skincare routines. It's a long process, but my skin has never felt cleaner and more refreshed. Plus, my skin is beginning to clear up after I've taken better care of it- score!