pic via target.com
Revlon ColorBurst Matte Balm offers velvety color with balm-like moisture. Infused with a Triple Butter Complex of Shea, Mango and Coconut Butter. This retractable chubby crayon requires no sharpener.
Basically, I'm obsessed. That's all you really need to know about this matte balm! But, that's not a good review now is it? If you've wandered aimlessly around your local department store, Target, Wal-Mart (although I never wander around there as it gives me major anxiety- no joke) and you've had your eye on these puppies I urge you to buy one!
I've had my eye on the color Mischievous ever since I saw my favorite blogger, Zoe Suggs (AKA Zoella) talking about it in one of her videos. The color was absolutely beautiful and her lips had the color stain without the high shine. I've never been a fan of glosses because:
A. They make your lips look insanely shiny- for what reason?
B. It gets super sticky
C. My lion mane hair gravitates toward it and gets stuck
With matte lipstick you get the color without the shine. You may be thinking "wouldn't it dry your lips out?". NO my friend, no. As long as you apply a chap stick and let it sink in prior to applying the matte balm, you'll be good to go. Pssst. When you're brushing your teeth, lightly scrub your lips for a few seconds to exfoliate them. Followup with a moisturizing chap stick. Since she is the spokesperson for Revlon, why not let Ms. Emma Stone give her opinion on the balm: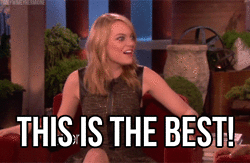 pic via capesandcartridges.com
The only downfall I have with the product is right when you apply it it leaves a chunky look to your lips, but that's easily solved if you take your finger and press to melt the product into your lips.
Have you tried this matte balm? If so, what other colors do you recommend?