You guys already know I'm a sucker for all things that claim to be matte- lipsticks, primers, foundations- the list goes on. When I saw Benefit released a new primer in their POREfessional line, I had to try it!
The POREfessional: Matte Rescue
is an "invisible-finish mattifying gel" that claims to minimize pores and keep you matte all day long. When I picked this up at my local Sephora, I was impressed with how much product you get for $28- 1.60 oz. The original POREfessional retails for $50 1.50 oz, so this is definitely a steal!
The consistency is a thin gel formulation that feels similar to other silicone primers but feels cleaner on the skin. Most silicone primers make my skin feel oily after an hour and my face becomes a Slip n' Slide for my makeup (gross, I know). I'm not a fan of the original POREfessional- I felt like it just sat on my face and didn't minimize my pores or keep me matte. I did love that it contains no oils which is SUPER important for my oil-ridden face- mama doesn't need anymore oil!
The POREfessional: Matte Rescue primer is a lifesaver if you have oily skin! I've become obsessed and find myself reaching for it after I apply my moisturizer whether I'm wearing makeup or not. There's something about this primer that makes my skin feel clean and matte. Does it keep me matte all day? Nope- I don't anything can, but it does keep me shine-free for a few hours. Even after I get oily in my t-zone, my skin doesn't look like a grease ball, rather nice and dewy. And us oily girls want that dewyness without the oil... and I right?
If you're in the market for a new primer, I would definitely check this out! Well done Benefit, well done.
Ummm that just reminded me of the line from Babe: "That'll do pig, that'll do." Gosh I'm weird.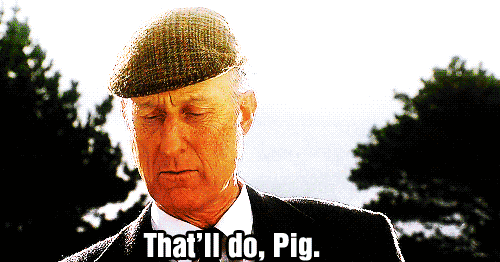 via giphy.com